Buy it Today!

Randy's book, Surviving the Top Ten Challenges of Software Testing, will help you solve some of your toughest testing problems: people problems!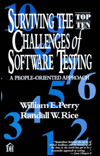 Click on the image to buy it from Amazon.com.



Copyright 2007, Rice Consulting Services, Inc.
September/October, 2007
Featured Article
The Cost of Software Quality Metric - A Powerful
Tool to Show the Value of Software Quality
By Randall W. Rice, CSTE, CSQA, CTFL
Joseph Juran, one of the founding fathers of the quality movement, published the idea of a "Cost of Quality" or "CoQ" it in his

Quality Control Handbook

in 1951. Since it was a metric developed in the manufacturing context, it is often seen as the quality-related costs seen in building physical products in an assembly line method.

The CoQ is a little confusing because it can defined in different ways. To some, it is not the total cost to achieve quality, but rather the cost of NOT achieving quality. This is also called the "cost of non-conformance." This was the view of Phillip Crosby, who wrote the book

Quality is Free

in 1979.

There is also the "Total Quality Costs" (TQC) view that is comprised of more than costs of non-conformance, such as the costs of assessment and prevention. The confusion arises because many people equate TQC to the CoQ. I tend to take that view and include prevention and assessment costs in the CoQ.

As a software quality practitioner and consultant, I have often considered whether adjustments are needed to accurately apply the traditional CoQ to software quality. This article will explain the traditional CoQ metric and also consider additional costs seen in software projects, but not typically seen in manufacturing.

Read More at http://www.riceconsulting.com/articles/cost_of_software_quality_metric.html



Upcoming Events

Coming Soon to Indianapolis and Hartford!!

There's still time to register for these public workshops

Indianapolis, IN - Process Improvement Using Root Cause Analysis (Thursday, Sept. 27, 2007) and Becoming an Influential Test Team Leader (Friday, Sept. 28, 2007). I will also be speaking at the monthly meeting of the Indianapolis QA Association on Thursday, Sept 27. Learn more and register at http://www.riceconsulting.com/indianapolis-sept-2007.html

Hartford, CT - Becoming an Influential Test Team Leader (Friday, Oct. 5, 2007). I will also be speaking at the monthly meeting of the Quality Assurance Association of Connecticut on Wednesday, Oct. 3rd. Learn more and register at
http://www.riceconsulting.com/hartford-oct-2007.html

I'll be speaking at the monthly meeting of the Kansas City Quality Assurance Association (KCQAA) on Thursday, Sept. 13th.

I'm honored to be speaking again at

StarWest 2007.

I'll be presenting a full-day tutorial on "Becoming an Effective Test Team Leader" and a track session on "Testing and Taming the Code Monolith." For more information about the topics and how to register, go to http://www.sqe.com/starwest/.



Rome, Italy - Testing Service-Oriented Architectures (Nov. 12 - 13) and Structured User Acceptance Testing (Nov. 14 - 15)

. Sponsored by Technology Transfer (www.technologytransfer.it).

Visit http://www.riceconsulting.com to read the full announcements and find out how to register. I hope to see you at one of these events!

Past Events

Thanks for those of you who were able to attend the public workshop held in Norman, Oklahoma last month - Software Testing for Weather Applications. We had 32 people in attendance and had a great time learning about testing weather radar applications.

Join Our Community!

Part of being a better tester is to network with other testers and contribute ideas to help others. At RiceConsulting.com you can participate in forums that cover a variety of topics, including test automation, lessons learned in testing, security and security testing. We also have job postings and a place to post resumes on the forum. I really need your help is starting some threads and getting the discussion going!

We need you to be a part of our community! Visit http://www.riceconsulting.com/community.htm to join today - It's easy to join and is totally free.

Listen to Podcasts about Software Quality

You can now download mp3 audio programs at RiceConsulting.com. Whether you listen on your computer or on your iPod, you can learn more about testing and software quality. In fact, I think this is the first podcast devoted to the topic of software testing and software quality. And...it's totally free!

Visit http://www.riceconsulting.com/podcasts.htm to download and listen to the podcasts. You can listen to the most recent podcast (featuring an interview with Dion Johnson on test automation here: http://www.riceconsulting.com/podcasts/episode10.mp3 .

What's New on RiceConsulting.com

New Monthly Drawing!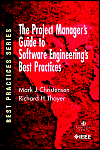 Each month, I'll be drawing the name and e-mail address of people who are on my newsletter list to receive a special prize. (Just click here to sign up!) This month, I'm giving away a copy of the book,

The Project Manager's Guide to Software Engineering's Best Practices

(a $66 value). This is a great book for any software quality professional. It covers a wide range of topics from the perspective of the IEEE standards. You can read my review at http://www.riceconsulting.com/march_2005_newsletter.htm.

You can also get extra chances to win each month by telling a friend about my site (just click on the "Tell a Friend" graphic on the right column of my home page) and my joining the forums and posting a question.




Humor of the Month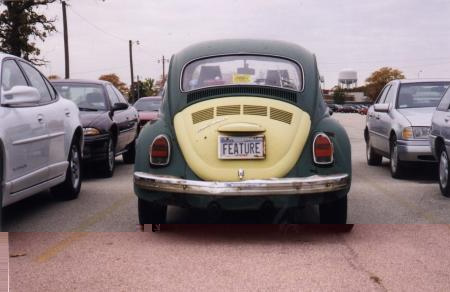 ---
Quotes
"Part of the inhumanity of the computer is that, once it is competently programmed and working smoothly, it is completely honest."
Isaac Asimov (1920 - 1992) American scientist and author
"I am not the only person who uses his computer mainly for the purpose of diddling with his computer.
"
Dave Barry, American humorist and author


"Computer science is no more about computers than astronomy is about telescopes."
Edsger Dijkstra
---
Book Review
SOA: Principles of Service Design

by Thomas Erl

Hardcover: 608 pages
Publisher: Prentice Hall (July, 2007)
Language: English
ISBN: 0132344823
This was a very timely book for me to read, since I am currently writing a new course on Testing Service-Oriented Architectures. This book has a very well-defined aspect of SOA, namely the design of services. Erl is very clear that this book does not cover topics he has previouly addressed in his other books on SOA, nor does it cover SOA standards since adoption of these proposed standards is not on the horizon.

With that said, I really appreciated the organization and presentation of this book. I have been reading some other titles and found this book very understandable. There are many illustrations that help explain the concepts of service design. The scope of topic coverage is also good. After explaining basic design of SOA, Erl covers topics such as service contracts, service coupling, service abstration, service reusability, service autonomy, service statelessness, and service discovery.

The book concludes with a discussion of Object-orientation and service-orientation, supporting practices, and mapping service orientation principles to strategic goals. There is also a case study that is referenced throughout the book to give a real-world application to the concepts explained in the book.

I found this book to be very readable, so anyone with an IT background should be able to understand it. Design experience would give an added perspective in understanding this topic, but others in the organization such as testers, business analysts, etc. should be able to profit from this book.

This is also a good reference book on service design. I could pick up the book, find a topic and immediately gain understanding of the topic. I like that!

One final thing I appreciated about the book was the lack of reference to specific vendors and tools. Not that tools and vendors aren't an important part of the SOA picture, but this vendor-neutral approach makes the book applicable in any environment.

I highly recommend this book to anyone who is involved in SOA design, people who may be investigating SOA as a new direction in building and reengineering systems, and people who just want to gain a better understanding of how services are designed. For testers and other software quality professionals, this book can form the basis of designing tests for services.

Readability - 5
Applicability - 5
Coverage of topics - 5
Depth of coverage - 5
Credibility - 5
Accuracy - 5
Relevance to software quality - 5
Overall - 5

Reviewed by Randy Rice
---
"Life is constantly presenting you with opportunities. Every moment something new, wonderful, and exciting awaits you. The next obstacle you face may help you grow far beyond anything you ever felt was possible and achieve new levels of success. However, for this to occur, you must open up to the opportunities that come your way. And that requires you to do something profound: Embrace change."
Keith Harrell, motivational speaker and author
"Imagination
was given to man to compensate him for what he is not; a sense of humor to console him for what he is."
Francis Bacon, philosopher
---
Links of interest
Critical bugs plague QuickBooks' online service, warns US-CERT - ActiveX vulnerabilities leave small-business owners open to attack - http://www.computerworld.com/action/article.do?command=viewArticleBasic&articleId=9034519&source=NLT_PM&nlid=8
One in four gamers play at work- http://www.computerworld.com/action/article.do?command=viewArticleBasic&taxonomyId=14&articleId=9034521&intsrc=hm_topic
12 IT skills that employers can't say no to - Job hunters with these IT skills are assured of employment, now and in the future - http://www.computerworld.com/action/article.do?command=viewArticleBasic&articleId=9026623
The top 10 dead (or dying) computer skills - Are your skills in need of upgrading? - http://www.computerworld.com/action/article.do?command=viewArticleBasic&articleId=9020942&intsrc=article_more_bot
Watch Your SOA Testing Blind Spots - http://softwaremag.com/pdfs/whitepapers/Crosscheck_wp2.pdf
---
This message was sent by Rice Consulting Services, Inc. To sign-up for future issues,
click here
.
If you received this in error or would like to be removed from our list, Click here to unsubscribe from this newsletter.