Buy it Today!

Randy's book, Surviving the Top Ten Challenges of Software Testing, will help you solve some of your toughest testing problems: people problems!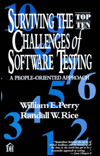 Click on the image to buy it from Amazon.com.



Copyright 2007, Rice Consulting Services, Inc.
July - August 2007
Featured Article
Grassroots Process Improvement
By Randall W. Rice, CSTE, CSQA, CTFL
Recently I was having a discussion with some friends about process improvement in organizations. (Sure, we also talked about sports, food, etc., but when you get two or more QA types together, it seems we can't help but talk shop at some point.)

As we continued discussing our past experiences in process improvement, we agreed that many times the greatest improvements originate from the grassroots of an organization. You know, someone or a team of people see something that needs to be fixed in the process and they fix it. Or, they have an idea for a new and better way of doing something, so they just do it.

The thing I find interesting enough to write an article about is that this flies in the face of conventional wisdom. In fact, I have taught people over the years that "improvement must come from the top" or it won't last. I often make the distinction between "management support" and "management leadership." To me, "support" is too weak. It really takes leadership to get something done.

However, this leaves me with a nagging question, "What do you do when management refuses to lead?" Or even worse, "What do you do when the leadership is going in the wrong direction?"

I have often commented that after being inside some of the largest and most influential companies in the United States, I'm amazed sometimes that we even have a gross domestic product. When I think of all the waste, lack of leadership and poor customer treatment, it's really a miracle that some companies stay in business at all.
Read More at http://www.riceconsulting.com/articles/grassroots_process_improvement.html



Upcoming Events

I'm honored to be speaking again at StarWest 2007. I'll be presenting a full-day tutorial on "Becoming an Effective Test Team Leader" and a track session on "Testing and Taming the Code Monolith." For more information about the topics and how to register, go to http://www.sqe.com/starwest/.



Public Workshops





Norman, OK -

Software Testing for Weather Applications - Aug. 9 & 10, 2007

This workshop is open (and helpful) to anyone, even though it is oriented to people working with weather applications.



Kansas City, MO - Intermediate Software Testing Workshop - Sept. 12 - 14, 2007

(Sponsored by the Kansas City Quality Assurance Association) I will also be speaking at the monthly meeting of the KCQAA on Thursday, Sept. 13th.



Indianapolis, IN -

Process Improvement Using Root Cause Analysis

(Thursday, Sept. 27, 2007) and

Becoming an Influential Test Team Leader

(Friday, Sept. 28, 2007).

I will also be speaking at the monthly meeting of the Indianapolis QA Association on Thursday, Sept 27.





Rome, Italy - Testing Service-Oriented Architectures (Nov. 12 - 13) and Structured User Acceptance Testing (Nov. 14 - 15)

. Sponsored by Technology Transfer (www.technologytransfer.it).

All of these courses have discounts for early registration and some have other discounts, such as multi-person and multi-day doscounts. You won't find a better value in public training, so don't miss out on these opportunities to build your skills!

Visit http://www.riceconsulting.com to read the full announcements and find out how to register. I hope to see you at one of these events!

Past Events

Thanks for those of you who were able to attend the StarEast conference in May. I appreciated all the great feedback on my keynote presentation, The Risks of Risk-Based Testing (visit http://www.riceconsulting.com/articulate/risks_of_risk_based_testing/player.html to hear a narrated presentation). It was truly a pleasure to be a part of the conference!

Join Our Community!

Part of being a better tester is to network with other testers and contribute ideas to help others. At RiceConsulting.com you can participate in forums that cover a variety of topics, including test automation, lessons learned in testing, security and security testing. We also have job postings and a place to post resumes on the forum. I really need your help is starting some threads and getting the discussion going!

We need you to be a part of our community! Visit http://www.riceconsulting.com/community.htm to join today - It's easy to join and is totally free.

Listen to Podcasts about Software Quality

You can now download mp3 audio programs at RiceConsulting.com. Whether you listen on your computer or on your iPod, you can learn more about testing and software quality. In fact, I think this is the first podcast devoted to the topic of software testing and software quality. And...it's totally free!

Visit http://www.riceconsulting.com/podcasts.htm to download and listen to the podcasts. You can listen to the most recent podcast (featuring an interview with Dion Johnson on test automation here: http://www.riceconsulting.com/podcasts/episode10.mp3 .

What's New on RiceConsulting.com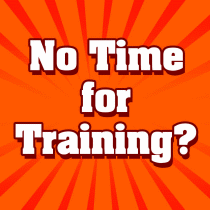 End of Summer Sale on E-learning Courses!

Save 25% on ALL online courses until August 31st. You have one full year to complete the training. Don't delay on this offer - I only offer discounts on limited occasions, so take advantage of this opportunity to build your skills at a great discount.

We know there are times when you and your team would like to receive training but because of time, budget and travel restrictions, you just can't receive the training in person. For those reasons, we developed nine online training courses. Our online training is almost like having me train you at your desk! You can now experience these courses wherever you have an Internet connection, whenever you want to view them.

I'm working on two courses that are scheduled for launch in both live and online formats soon:

Testing Service-oriented Architectures (http://www.riceconsulting.com/training/testing_SOA.htm) and

Foundation Level Course in Software Testing (http://www.riceconsulting.com/training/foundation_level_course_in_software_testing.htm)

For more details, visit our e-Learning center at http://www.riceconsulting.com/training/e_learning.htm. If you are interested in being one of the first to schedule an in-house presentation of one of these courses, contact me at http://www.riceconsulting.com/contact_us.htm.



New Monthly Drawing!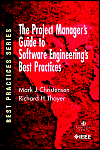 Each month, I'll be drawing the name and e-mail address of people who are on my newsletter list to receive a special prize. (Just click here to sign up!) This month, I'm giving away a copy of the book,

The Project Manager's Guide to Software Engineering's Best Practices

(a $66 value). This is a great book for any software quality professional. It covers a wide range of topics from the perspective of the IEEE standards. You can read my review at http://www.riceconsulting.com/march_2005_newsletter.htm.

You can also get extra chances to win each month by telling a friend about my site (just click on the "Tell a Friend" graphic on the right column of my home page) and my joining the forums and posting a question.






Humor of the Month



I took this picture two weeks ago of a church not far from my house. I don't know if this was an intential mistake or not, but the same message on the other side of the sign was correct. I love it!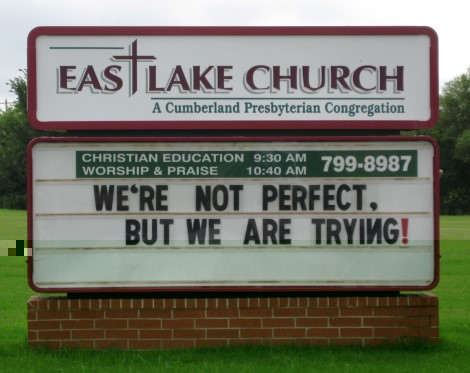 ---
Quotes
"What happens when two people talk? That is really the basic question here, because, that's the basic context in which all persuasion takes place."

Malcolm Gladwell
Source:
The Tipping Point: How Little Things Can Make a Big Difference

, Page: 80
"If you would persuade, you must appeal to interest rather than intellect."
Benjamin Franklin
(1706-1790) American statesman, scientist and philosopher.
---
Book Review
Little Green Book
of Getting Your Way: How to Speak, Write, Present, Persuade, Influence, and Sell Your Point of View to Others
by Jeffrey Gitomer

Hardcover: 220 pages
Publisher: Pearson Publications (May, 2007)
Language: English
ISBN: 0131576070

One of the questions I get most often is how to "sell" testing to management and developers. What people mean is, "How do you convey the value of software quality to people who are mainly concerned with other things, such as meeting a deadline?" In other words, "How do you persuade people who don't seem to care?"
As a tester (and especially a test team leader), you also need to be able to influence and persuade others. Basically this boils down to learning how to persuade in ways that do not immediately become apparent to those we are trying to influence. For example, when you want to send people to a software testing course and need to get management approval, you want to persuade management that building skills has value to projects and to the organization. Or, when the deadline arrives and you know that the software isn't ready to be delivered, you need to convey the risks so that management fully understands them so as to avoid the painful consequences. My favorite point of persuasion is to be able to show very convincingly the added value that you and your team bring to your organization.
This book does not address software quality specifically, but it
does
give you the tools and ideas for you to build your own case persuasively. You will learn how to prepare in advance what you want to present to others. This is a critical first step that many people miss. You will also learn the words to use and when to employ the right methods.
I find this as well as Jeffrey's other books to be very visual and engaging. If you like one of his books, you will likely buy others. I have bought and read most of them and found them very helpful. I highly recommend this and Jeffrey's other "little books" to anyone.


Readability - 5
Applicability - 5
Coverage of topics - 4
Depth of coverage - 4
Credibility - 5
Accuracy - 5
Relevance to software quality - 5
Overall - 5

Reviewed by Randy Rice
---
"
Character may almost be called the most effective means of persuasion.
"
Aristotle, philosopher
"
The most important persuasion tool you have in your entire arsenal is integrity.
"
Zig Zigler, motivational writer and speaker
---
Links of interest

Radar glitch delays Project 28 launch - http://www.washingtontechnology.com/online/1_1/30883-1.html

Sure, blame it on testing!! "Testing delays TWIC card rollout" - http://www.washingtontechnology.com/online/1_1/31031-1.html
(However, the last sentence in the article is encouraging!)

FBI Data Mining for More than Terror - http://www.eweek.com/slideshow_viewer/0,1205,l=&s=26478&a=211572&po=1,00.asp

The Realities of Software Testing - Chapter 2 from Software Testing, 2nd. By Ron Patton - http://www.informit.com/articles/article.asp?p=412922&rl=1

On Defect Taxonomies - https://www.inf.fu-berlin.de/w/SE/DefectTaxonomy
The Risks of Pandemics May be Hard to Grasp - http://www.computerworld.com/action/article.do?command=viewArticleBasic&articleId=298424&source=NLT_DIS&nlid=14
Test Often (A great blog about structural unit testing) - http://www.testoften.com


---
This message was sent by Rice Consulting Services, Inc. To sign-up for future issues,
click here
.
If you received this in error or would like to be removed from our list, Click here to unsubscribe from this newsletter.