Copyright 2007, Rice Consulting Services, Inc.
December, 2007
Featured Article
TQM is Not Just Dead - It's in an Unmarked Grave

by Randall W. Rice


I don't make this observation happily. As I reflect on the current state of quality (or lack thereof) in many aspects of American business, I wonder what happened to all the things that people like Deming, Juran, Crosby and others taught back in the 80's and 90's. In many ways, it's almost like the "Quality Movement" didn't happen at all.

So, I have to ask "Why?"



The Current Situation



In my research of asking people what their greatest challenges are in software testing, the most frequent response in the past 3 years has been "Lack of management support for quality." This is followed closely by "Lack of adequate user requirements."

Both of these challenges are indicators that the quality message has been lost in many organizations.
Read More at http://www.riceconsulting.com/articles/TQM_is_not_just_dead.html



I Wish You a Merry Christmas and Happy New Year!

As this year draws to a close, I would like to wish all of you a very blessed Christmas and a prosperous New Year. Thanks to all of you who have attended a course or in some other way were a part of our support this year. We couldn't do what we do without you!

20% off All E-learning Courses Until December 31!




Between now and December 31st, you can save 20% off all of my e-learning courses. There are no limits on this offer. You can enroll in as many courses as you like. Keep in mind that you have one full year to complete the course, so that means that this could be a great way to get part of your 2008 skill building efforts in place.
To see what you can save, just visit my site at
http://www.riceconsulting.com/xcart/home.php?cat=3.
If you want to see all the great benefits of e-learning and get more details about how this works, visit
http://www.riceconsulting.com/training/e_learning.htm.
Past Events
The sessions in Rome last month were well-recieved. In fact, I am already scheduled to conduct the same two courses in Rome in June (3 - 6, 2008) - Structured User Acceptance Testing and Testing SOA. So, if you are in Italy and want to learn more about testing, check out these courses. Or, if you live in the USA and want to eat great Italian food, see amazing art and learn more about testing - come on over!
Humor of the Month


I took this picture while in Rome. And you thought

your

car needed washed!


---
Quotes
"Most folks are about as happy as they make up their minds to be."
Abraham Lincoln (1809 - 1865)


"The happiness of a man in this life does not consist in the absence but in the mastery of his passions."
Alfred Lord Tennyson (1809 - 1892)
---
Book Review
Outside-in Software Development: A Practical Approach to Building Successful Stakeholder-based Products

by Carl Kessler and John Sweitzer

Paperback: 240 pages
Publisher: IBM Press (October, 2007)
Language: English
ISBN: 0131575511
Here's a quick quiz:

1. What is a stakeholder?
2. Who are the stakeholders on your current project?
3. What are the major categories of stakeholders?
4. When should stakeholders be involved in a project?

If you struggle with answering these questions, then this is the book for you. In fact, even if you understand the role of stakeholders, you can still profit from this book if you work on software projects.

The problem with many projects is that they are designed and built from an insulated "internal" point of view which often ignores the needs of stakeholders. This book shows how to gain the "outside in" perspective to your projects without having to adopt a new project methodology or drastically change your current methods. I really appreciated this approach because so many books have good points, but they require changing so much of what you do that it becomes difficult to apply the ideas.

Another thing I appreciated about this book is that it addressed the quality factors in software development by discussing activities such as testing and peer reviews. One innovative idea is to perform "transplant testing" where you transplant client artifacts to your test environment to enable more reality in your testing and assessment efforts.

A key concept in outside-in development is consumability. Consumability is a product's capability to be rapidly and efficiently deployed, used and supported. Although this seems obvious, think of all the systems and applications that are built only to be rejected by the end-users for reasons such as poor ease of use and performance.

The bottom line is that this is a great book to help you build projects to meet the needs of your stakeholders. Do this, and you will be a hero and so will your stakeholders!

Readability - 5
Applicability - 5
Coverage of topics - 5
Depth of coverage - 5
Credibility - 5
Accuracy - 5
Relevance to software quality - 5
Overall - 5

Reviewed by Randy Rice
---
"Happiness is having a large, loving, caring, close-knit family in another city."
George Burns (1896 - 1996)

"Many persons have a wrong idea of what constitutes true happiness. It is not attained through self-gratification but through fidelity to a worthy purpose."
Helen Keller (1880 - 1968)


---
Links of interest

California .Gov Site Seeded with Malware Again -

http://www.eweek.com/article2/0,1895,2225736,00.asp?kc=EWKNLGOV120507STR1



In the Face of Disaster, Ingenuity Saves the Day

-

http://www.eweek.com/article2/0,1895,2225843,00.asp?kc=EWKNLGOV120507STR3



Rise in IT Hiring Seen Slowing - Some Jobs to Experience Growth

-

http://www.cioinsight.com/article2/0,1540,2227758,00.asp?kc=CIOMINUTE120507CIO1





---
This message was sent by Rice Consulting Services, Inc. To sign-up for future issues,
click here
.
If you received this in error or would like to be removed from our list, Click here to unsubscribe from this newsletter.
Quick Links

E-Learning Courses
E-Learning Environment
Shopping Cart
Training Course Catalog
Join the Free Newsletter
Podcasts on Software Quality
Randy's Software Testing Blog
Conference Presentations
Humor
Ask a Question
Tell a Friend
Link to Us!



Randy's book, Surviving the Top Ten Challenges of Software Testing, will help you solve some of your toughest testing problems: people problems!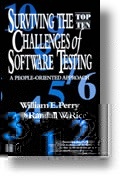 Click on the cover to buy it now!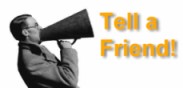 Testimonials

"As a result of Mr. Rice's training session our QA Team is now displaying a great deal of enthusiasm and excitement. They are now making recommendations and suggestions to improve the process. The advantages of using the online training were: lower training costs, no traveling, self-paced, convenient access from anywhere in the world.

Randy Rice went above and beyond our expectations. He was flexible and quick to respond to our needs. The training material he provided was extremely beneficial and easily incorporated into our program.

Thanks to Randy's expertise and talents our team is on their way to an improved Quality product!"

Allace B. Buchmelter, Manager of Quality Assurance
CyberMetrics Corporation



"What is the most value to me is that this course has increased my confidence in my own performance -- being young and new to this field, I have suffered under the bearing of contractors with agendas. They have much knowledge to offer, but it is usually laden with agendas. So this course gave me more information that I can use to wage more effective debates on, for example, how to proceed on particular projects."





Gathering, Documenting and Testing User Requirements

participant


Home About Us Site Map Events Training Consulting Resources Community
Newsletter Contact Us Careers Certification The QA Zone
All materials on this site copyright 1996 - 2007, Rice Consulting Services, Inc.
Rice Consulting Services, Inc.
P.O. Box 892003
Oklahoma City, OK 73189
405-691-8075
"Leaders are made, they are not born. They are made by hard effort, which is the price which all of us must pay to achieve any goal that is worthwhile." -- Vince Lombardi

This site best viewed with the Mozilla Firefox
browser!