Copyright 2008, Rice Consulting Services, Inc.

March, 2008

Featured Article

What is Your Stakeholders' Risk Tolerance?

by Randall W. Rice, CTFL
Risk assessment and risk management are two topics you hear a lot about. However, we seldom assess people's tolerance to risk as it pertains to software projects.

Without understanding risk tolerance, risk levels don't help us make reasoned software project decisions. This same thought can be applied to other areas of risk besides software projects.

A great example of this is my financial advisor. When I first started working with him, he had both my wife and me complete a simple five-question survey to determine our tolerance for investment risk.

Read More at http://www.riceconsulting.com/articles/stakeholder-risk-tolerance.html



News from Rice Consulting
Coming to Chicago, April 8 - 10, 2008
I'll be coming back to Chicago this spring to present two really valuable workshops:

Agile and Exploratory Testing

(April 8 - 9, 2008) and

Process Improvement Using Root Cause Analysis

http://www.riceconsulting.com/chicago-april-2008.html. (April 10, 2008). Register three or more people and get a 10% discount. To see the complete brochure, click here:



Coming to Rome, Italy, June 3 - 6, 2008
I am scheduled to conduct two courses in Rome in June (3 - 6, 2008) - Structured User Acceptance Testing and Testing SOA. So, if you are in Italy and want to learn more about testing, check out these courses. Or, if you live in the USA and want to eat great Italian food, see amazing art and learn more about testing - come on over!

Metrics, Anyone?

Thanks for those of you who responded to my call in the last newsletter to form a software measurement group!

Just in case you missed it, it's not too late to join. Here's the deal. I am often asked if I have industry average metrics for ... you name it. Personally, I have problems with "industry averages" which I will explain in a future article. However, I do find value in metrics when the context is understood and taken into account. To help meet this need,

I am starting a software measurement group.



It's free to join, but you will be expected to contribute your metrics and share them with the other members. (This sharing will be at an aggregate level and no company or individual names will be associated with any information. Confidentiality will be maintained and guarded.) We will maintain a set of baseline metrics that we can track and share. If you are interested in learning more about this new group, just reply to this newsletter e-mail or contact me from my web site (www.riceconsulting.com/contact_us.htm).

New Podcast


This month, my guest is Dr. Rebecca Staton-Reinstein on the topic of Dr. W. Edwards Deming and his work in establishing the world-wide quality movement. In this podcast, I review Dr. Deming's 14 points and then get Dr. Rebecca's perspective on Dr. Deming and why it seems his message has been forgotten by many people.




Humor of the Month

From the w3Schools.com website:


Customer
: "I want to download the Internet. Do I need a bigger hard disk?"


Download the Internet here
---
DR. JOSEPH M. JURAN, "FATHER" OF QUALITY, HAS PASSED AWAY
February 29, 2008 -
SOUTHBURY, CT – Dr. Joseph M. Juran, noted author and "father" of modern day
Quality Management, passed away on February 28th, 2008, from natural causes. He was
103 years old, and was physically and mentally active until his death. Born in Braila,
Romania, in 1904, Dr. Juran's family immigrated to the United States, settling in
Minneapolis, MN in 1912.

Read more at http://www.riceconsulting.com/news-juran.html

---
Quotes
"Commitment is the daily triumph of integrity over skepticism."
Dr. Joseph M. Juran (1904 - 2008)
"My job of contributing to the welfare of my fellow man is the great unfinished business."
Dr. Joseph M Juran
---
Book Review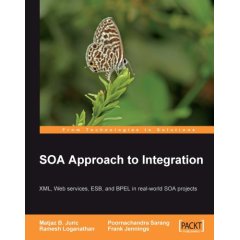 Click book cover or link below to buy from Amazon.com
Publisher: PACKT Publishing
Pub. Date: November 2007
ISBN-13:
9781904811176
Service-Oriented Architecture is a hot topic and the audience is now starting to extend beyond software developers. Business leaders, managers, testers, trainers, project stakeholders are starting to ask "What is this thing called SOA?"

This book seems to describe SOA and many of the associated components, such as XML, web services, ESB and BPEL, at a fairly detailed level. However, keep in mind that "detailed" to me may not be detailed to you, depending on your current understanding of SOA. My perspective is that of a software testing practitioner, consultant and trainer. If you are a software architect or developer working with SOA already, you are probably looking for much more detail than I am.

I can state from personal experience that it's tough sometimes to pull off a book with four authors, but the book seemed to keep a consistent tone and message. The descriptions are complete, with plenty of examples and illustrations. My observation is that this book is much more on the "what" than the "how" of SOA, meaning that much of the text is devoted to explaining the concepts and what they mean to SOA, as opposed to how to implement SOAs.

If you are totally unfamiliar with SOAs, I might recommend a primer, such as "Service Oriented Architecture for Summies" before diving into this book. It's not that the text is complex, but there's just a lot of information to unpack. It helps to have a little background before starting this book.

My main disappointment with the book was the total absence of anything about testing. While this book is not a book on testing and was not promoted as such, there were some golden opportunities to at least mention things such as performance testing and testing in the project life cycle. For example, on pages 220 and 221, the development life cycle is described as "Identification, Design, Implementation/composition, Deployment, Execution, Monitoring, and Analysis and Optimization." Not only is testing totally omitted as a phase, it isn't even mentioned in the descriptions of the phases. The reader is left with the conclusion that either testing isn't very important or it's something assumed that doesn't require any special consideration. Even

SOA for Dummies

has several pages devoted to testing. By the way,

SOA for Dummies

has more information on testing than any other SOA book I have reviewed to date!

So, this book does a good job of describing SOAs and shows plenty of examples. It just stops short of where you typically spend 25 to 33 percent of project time - testing.


Readability - 4
Applicability - 5
Coverage of topics - 4
Depth of coverage - 4
Credibility - 5
Accuracy - 5
Relevance to software quality - 3

Overall - 4.3

Reviewed by Randy Rice
---
"Yes, we have to divide up our time like that, between our politics and our equations. But to me our equations are far more important, for politics are only a matter of present concern. A mathematical equation stands forever."
Albert Einstein (1879 - 1955)



"Great ability develops and reveals itself increasingly with every new assignment."
Baltasar Gracian

---
This message was sent by Rice Consulting Services, Inc. To sign-up for future issues, click here. If you received this in error or would like to be removed from our list, Click here to unsubscribe from this newsletter.