Buy it Today!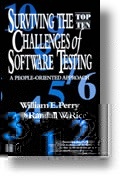 Randy's book, Surviving the Top Ten Challenges of Software Testing, will help you solve some of your toughest testing problems: people problems!

Click on the image to buy it from bn.com.
Web Testing Overview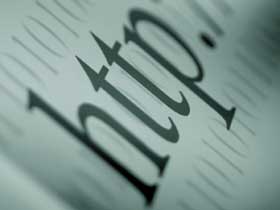 1 Day
"Randy presents information in an easy-to-understand format!" -Doug Stewart
"Excellent! Randy Rice was the right combination of experience, presence and knowledge." -Helena Porezak
This is a practical computer-based interactive seminar designed to provide a quick start in testing web-based applications. You will learn the terminology, the unique issues, and the process for testing web-based applications. As a result of attending this seminar, you should be able to understand web-based testing and have an increased comfort level in testing web-based applications.
A Web-Based Testing Overview will help you become more comfortable and confident in dealing with web-based testing issues. You will emerge from this one-day session knowing how to develop a web-based test strategy and plan. You will also have a working knowledge of how to perform a test of a web-based application.
Internet technology is a revolutionary resource that has the power to transform organizations, giving them a competitive advantage in today's global marketplace. E-commerce can help your company become more competitive and ultimately, more profitable.
Web-Testing Overview is the first part of a three-part web testing trilogy for testing web applications. The second course is E-Commerce and Security Testing, and the third course in the trilogy is Testing Web Technology.
Learn how to find costly and embarrassing problems before your customers find them.
Understand the unique differences in testing web-based applications.
Become familiar with web terminology so that you can interact confidently with web developers and vendors.
Choose the most effective test options for your company among competing techniques.
Understand which risks are associated with web-based technologies and how they can affect your test planning and execution.
Get the most out of your existing investment in testing and how to leverage that investment for web testing.
Advance your career by broadening your testing expertise.
QA Managers
Test managers
Test analysts
Testers
End users
Web developers
Mainframe and client/server developers making the transition to web development.
General managers who are responsible for making IT quality decisions in their organizations
IT auditors and internal auditors
The program requires basic IT and testing knowledge or experience
Program Information

This course is presented on an in-house basis only unless offered as a special public course. Contact us for information about how to bring this course into your organization.
Introduction (.5 hr.)
How Internet Systems Differ From Other Technologies
Terminology
The Impact Of Internet On Test Strategies
The Key Areas Of Focus For Internet Testing
The Role Of Verification And Validation In Testing Internet Systems
The Difference Between Client/Server And Internet Computing (.5 hr.)
Terminology
Architecture
Security
Skills
Benefits of Internet Technology
An Internet Testing Strategy (1 hr.)
Risks
Key Areas of Concern
Who Does What?
Test Environment Considerations
An Internet Testing Process (2 hrs.)
Deming Workbench
The Steps
How Testing Fits Into the Internet Systems development Lifecycle (.5 hr.)
An Overview of Internet Test Tools (1 hr.)
HTML Test Tools
Java Test Tools
Load/Stress Testing Tools
A Case Study and Exercise (1.5 hrs.)
Summary (.25 hr.)
Top 10 Workshop Points
Questions and Answers
Resources
Checklists and Templates
Glossary
Bibliography
Web Sites
Test tool database
Deliverables Course notebook with slides, worksheets, checklists, complete examples and supporting text
Test tool database
You will have the basic information needed to plan and execute an effective test of a web-based application.
Latest News
New Online Course - Unit Testing
New Online Course - Gathering, Documenting and Testing User Requirements!
New Course Series - IEEE Standards
Join Our Free Newsletter

RCS e-Learning


Quote
"Leaders are made, they are not born. They are made by hard effort, which is the price which all of us must pay to achieve any goal that is worthwhile." -- Vince Lombardi