Buy it Today!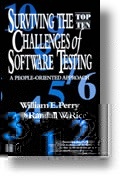 Randy's book, Surviving the Top Ten Challenges of Software Testing, will help you solve some of your toughest testing problems: people problems!

Click on the image to buy it from bn.com.
Using JAD Right
1 Day

Joint Application Development (JAD) is a powerful technique, if used properly, to get the users' perspective of a system to be built.

This workshop is designed to teach people how to get the user and customer perspective by using a variety of facilitation techniques. This is a very experiential course, with more exercises than lecture. Practical exercises and case studies are used to allow people to put into practice the techniques they are learning.

The course textbook is Joint Application Development by Jane Wood and Denise Silver.
Learn how to get the information to build the correct system.
Understand the facilitation and people issues in JAD.
Learn how to get information effectively through team-based sessions.
Advance your career by reinforcing your analysis expertise.
Test analysts and testers
QA analysts
Business analysts
Facilitators
Developers
End-users
IT managers
Project managers and team leaders
Anyone interested or responsible for working with users in system development!
The program requires only basic IT knowledge or experience. Testing knowledge or experience is not a pre-requisite.
Program Information

This course is presented on an in-house basis only unless offered as a special public course. Contact us for information about how to bring this course into your organization.
Topics
Foundations - What is JAD and How Can it Help You?

JAD Terms

The JAD Process


How to Build the Team


Defining the JAD Project

Research

Preparation

The Session

The Final Deliverable

Leading the Session


Group Dynamics

Facilitation Skills

Pitfalls to Avoid

A Facilitator's Toolkit

Decision Making

Creativity in the Process

Tools for the Process

The Big Picture - How Does JAD Work With Other Methodologies?

Resources
Checklists and Templates
Glossary
Bibliography
Course notebook with slides images, worksheets, checklists, complete examples and supporting text
Textbook - Joint Application Development by Jane Wood and Denise Silver.
You will have the basic information needed to perform effective JAD sessions in your organization.
Instructor
To be announced
Latest News
New Online Course - Unit Testing
New Online Course - Gathering, Documenting and Testing User Requirements!
New Course Series - IEEE Standards
Join Our Free Newsletter

RCS e-Learning


Quote
"Leaders are made, they are not born. They are made by hard effort, which is the price which all of us must pay to achieve any goal that is worthwhile." -- Vince Lombardi