Buy it Today!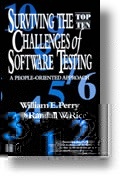 Randy's book, Surviving the Top Ten Challenges of Software Testing, will help you solve some of your toughest testing problems: people problems!

Click on the image to buy it from bn.com.
Testing Web Technology
1 Day
"I liked the informal humorous style. The interactive exercises were good too!" - Rich Cowley
"Randy really knows the material. I enjoyed this class!" - Mary Vander Muelen
This is a practical hands-on seminar to explore the deeper issues of testing web-based applications. This course deals with many of the structural issues in terms of web-oriented languages and architecture. You will learn the terminology, the unique issues, and the process for testing web-based applications at a structural level. As a result of attending this seminar, you should have a good working knowledge of what it takes to test the inner workings of web-based applications.
Testing Web Technology will help you become more comfortable and confident in structurally testing web-based applications. You will emerge from this one-day session knowing how to develop test cases and test plans for languages such as Java and XML. You will also have a working knowledge of how to perform a test of web architecture, such as databases and servers.
Testing Web Technology is the third part of a web testing trilogy that includes A Web Testing Overview as the first part and E-Commerce and Security Testing as the second part.
Internet technology is a revolutionary resource that has the power to transform organizations, giving them a competitive advantage in today's global marketplace. E-commerce can help your company become more competitive and ultimately, more profitable. Learn the issues and processes for effectively testing the nuts and bolts of this dynamic and profitable technology by attending this hands-on course.
Learn how to find costly and embarrassing problems before your customers find them.
Understand the key issues in testing web-based applications at a structural, detailed level.
Learn how to design tests that adequately cover web-based languages and architectures.
Get the most out of your existing investment in testing and how to leverage that investment for structural testing.
Advance your career by broadening your testing expertise.
Test analysts
Testers
Web developers
Mainframe and client/server developers making the transition to web development.
The program requires intermediate IT knowledge or experience. Extensive web development knowledge is not a pre-requisite.
Program Information

This course is presented on an in-house basis only unless offered as a special public course. Contact us for information about how to bring this course into your organization.
Module 1 - Web Technology Overview (.5 hr.)
Course Roadmap
Web Testing Complexity
1st Generation Web Applications
2nd Generation Web Applications
CGI
3rd Generation Web Applications
Module 2 - Testing HTML and DHTML (1 hr.)
Terminology
HTLM
DHTML
HTML Characteristics
Examples of HTML Usage
Example of HTML Coding
Test Methods

Structural

Syntax Checking
Correctness

Functional

Correctness
Links
Content
Readability
Navigation
Compatibility
Regression Testing
Performance Testing

DHTML Characteristics
Examples of DHTML Usage
Example of DHTML Coding
Test Methods

Structural

Code Reviews
Syntax Checking
Correctness

Functional

Correctness
Edits
Process
Integration
Usability
Performance Testing

Tools
Exercise
Resources
Module 3 - Testing CGI scripts (1 hr.)
What is CGI?
CGI Characteristics
Examples of CGI Applications
Example of Calling a CGI Script
Example of CGI Scripting
How CGI Works
Test Concerns
Test Methods
Test Concern/Method Matrix
Resources
Module 4 - Testing Java and Java-Related Technologies (1.5 hr)
Java
Java Characteristics
Examples of Java Usage
Example of Java Coding

Variations

Java Script

Examples of Java Script
Java vs. Java Script
How to Test Java Script
Example Java Script Test Cases
Exercise

Java Applets

How to Test Applets
Example Java Applet Test Cases
Exercise

Java Servlets

How to Test Servlets
Example Java Servlet Test Cases
Exercise

Java Beans

Example Java Bean Test Cases
Exercise

Cookies

How to Test Cookies
Example Cookie Test Cases

Java Test Concerns
Java Test Methods

Structural
Functional

Correctness
Compatibility
Performance

Tools
Resources
Module 5 - Testing XML (1 hr.)
Terminology
Language Characteristics
XML vs. HTML
Why Use XML?
Example XML Coding
XML Test Concerns
Testing Web Services
SOAP
Test Methods

Structural

Rules for Well-Formed XML
Tools

Functional

XML Application Example
Exercise
Resources
Module 6 - Testing Web Databases (1.5 hrs.)
Terminology
Architecture
Characteristics
Test Factors
Test Methods
Systematic View of Testing
Test Techniques
Data-Driven Testing

Creating Test Scripts
Automated Test Strategies
Business Cases
How to Design and Document Test Cases
Test Cycles
How to Create and Maintain Test Data

Usability
Compatibility
Regression
Performance
Tools
Exercise
Resources
Resources
Checklists and Templates
Glossary
Bibliography
Web Sites
Deliverables Course notebook with slides, worksheets, checklists, complete examples and supporting text
You will have the basic information needed to plan and execute a structural test of a web application.
Latest News
New Online Course - Unit Testing
New Online Course - Gathering, Documenting and Testing User Requirements!
New Course Series - IEEE Standards
Join Our Free Newsletter

RCS e-Learning


Quote
"Leaders are made, they are not born. They are made by hard effort, which is the price which all of us must pay to achieve any goal that is worthwhile." -- Vince Lombardi