Buy it Today!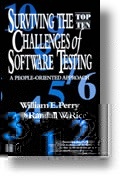 Randy's book, Surviving the Top Ten Challenges of Software Testing, will help you solve some of your toughest testing problems: people problems!

Click on the image to buy it from bn.com.
Intermediate Training Courses in Software Testing


Intermediate Software Testing Techniques - 3 days
This course is designed for testers that want to go deeper in their testing knowledge.

A Short Course in Performance Testing - 1 Day
This course is designed to convey the basic principles of performance testing. Half of the day is spent in learning the basics and the second half is spent defining a performance test strategy for a case study and then applying a load test tool to run a small performance test.

Testing Commercial Off-the-shelf (COTS) Software Applications - 2 days
This course is designed to teach the process of planning, performing and evaluating the tests of COTS applications in a way that customers can easily learn and apply.

Security Testing for the Enterprise and the Web - 3 days
This is an intermediate level course to help you understand how attackers break into systems, how you can defend against the attacks, and how you can test the effectiveness of your defenses.

Adding Value to Testing and QA Processes - 3 days
This course is designed for people who want to learn creative and efficient ways to add value to their QA and testing processes. Each module addresses different areas of focus in which QA and testing can add definite value to what is currently being done in the organization.

Building and Testing Disaster Recovery and Business Continuity Plans - 1 day
You may have written plans to recover from a disaster and to keep your business running, but will people be able to actually carry out the plans? This workshop discusses how to write the plans and how to test them to give you the best assurance that you will be prepared in the event of an emergency.
Latest News
New Online Course - Unit Testing
New Online Course - Gathering, Documenting and Testing User Requirements!
New Course Series - IEEE Standards
Join Our Free Newsletter

RCS e-Learning


Quote
"Leaders are made, they are not born. They are made by hard effort, which is the price which all of us must pay to achieve any goal that is worthwhile." -- Vince Lombardi