Buy it Today!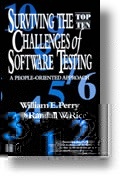 Randy's book, Surviving the Top Ten Challenges of Software Testing, will help you solve some of your toughest testing problems: people problems!

Click on the image to buy it from bn.com.
Interactive Workshops
All of our courses involve you in the learning. These courses make an even higher use of student and team exercises.

How to Become a Better Tester! - 1 Day
Even the best want to get better. This session is designed to help any tester develop skills and thinking to become an indispensable member of a test team.
Improving Processes Using Root Cause Analysis - 1 Day
This workshop is designed to teach people how to improve any process by using proven techniques and processes for identifying and correcting root causes of problems.
Using JAD Right - 2 Days
Joint Application Development (JAD) is a powerful technique, if used properly, to get the users' perspective of a system to be built. This workshop is designed to teach people how to get the user and customer perspective by using a variety of facilitation techniques.
Integration and Interoperability Testing - 3 days
This is an intermediate level course to build skills in testing systems and applications in diverse integrated environments, especially where compliance to interoperability standards must be validated.
Gathering, Documenting and Testing User Requirements - 2 days
This is a basic course in understanding the process of gathering, defining, testing and managing user requirements. You will learn the requirements process from start to ongoing maintenance.
Building an Effective QA and Testing Process for Ongoing Validation - 2 days
This course is designed to teach participants how to design and implement processes for quality assurance and quality control.
Use Cases From Concept to Test Cases - 1 day
This workshop is designed to give a practical overview and process for writing use cases and then designing test cases from them.
Latest News
New Online Course - Unit Testing
New Online Course - Gathering, Documenting and Testing User Requirements!
New Course Series - IEEE Standards
Join Our Free Newsletter

RCS e-Learning


Quote
"Leaders are made, they are not born. They are made by hard effort, which is the price which all of us must pay to achieve any goal that is worthwhile." -- Vince Lombardi