Buy it Today!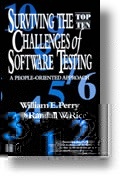 Randy's book, Surviving the Top Ten Challenges of Software Testing, will help you solve some of your toughest testing problems: people problems!

Click on the image to buy it from bn.com.
Hot Topics and Effective Techniques in Web Testing
1 Day
This is a practical seminar to explore new issues in testing web-based applications. This course also describes effective ways to test web applications, such as incremental and performance testing. You will learn the terminology, the unique issues, and the process for testing web-based applications using new technologies. As a result of attending this seminar, you should have a good working knowledge of what's new in web testing and what it takes to effectively test web-based applications.
Hot Topics and Effective Techniques for Web Testing will help you become more comfortable and confident in testing web-based applications. You will emerge from this one-day session knowing how to develop test strategies and test plans for technologies such as Java, .Net, web services and XML.
Internet technology is a revolutionary resource that has the power to transform organizations, giving them a competitive advantage in today's global marketplace. E-commerce can help your company become more competitive and ultimately, more profitable. Learn the issues and processes for effectively testing the nuts and bolts of this dynamic and profitable technology by attending this hands-on course.
Design and conduct an effective web-based test

Conduct an incremental test for times you may not have defined requirements

Find and evaluate web-based test tools

Deal with new technologies for the web, such as web services, security and .Net

Improve on types of testing, such as usability and security testing
The program requires intermediate IT knowledge or experience. Extensive web development knowledge is not a pre-requisite.
Program Information

This course is presented on an in-house basis only unless offered as a special public course. Contact us for information about how to bring this course into your organization.
Web Technology Overview

Web Testing Complexity

1st Generation Web Applications

2nd Generation Web Applications

3rd Generation Web Applications

4th Generation of the Web

What's Current and on the Horizon?

What Many Have Learned

Processes and Techniques That Have Worked Well

Load Testing

Load Testing Key Concerns

Load Testing Challenges

Terminology

Prerequisites

Manual vs. Automated Tools

Which Tools are Applicable for Performance Testing?

How Can Tools Help?

Common Performance Test Problems and Pitfalls

Incremental Testing
Reviews and Inspections
Automated Regression Testing

Risks of Not Automating Testing
Risks of Automating Testing
Top Ten Challenges of Automated Testing
Automated Test Strategies
A Workable Automated Test Organization
Using Bridging Scripts for ToolInteroperability
Steps in Selecting a Test Tool
Critical Success Factors

What We Could Be Doing Better

A Few Examples

Web Correctness Testing

What are the Defect Profiles?

Regression Testing
Where Data Defects Can Happen
Example for E-Commerce Correctness

Example Test Cases for E-Commerce Correctness

An E-Commerce Schematic

Maintenance

Web Usability Testing

Unique Considerations for Usability Testing

What do the Surveys Show?

How to Perform Web Usability Testing

The Process

Helpful Resources for Web Usability

What's New on the Web?

Web Services

SOAP Defined

Web Services Test Methods

Web Services Test Concerns

.Net vs. Java

What is .Net?

6 Things to Consider

Security Testing

New Security Threats

What is Security Testing?

Is Security Testing Possible?

The Challenge

Five Steps to Enterprise Security

How Testing Fits into an Enterprise Security Process

Key Points for Security Testing

Hackers and Crackers

Who are the Hackers and Crackers?

How Do They Work? - The 5 Phases of an Attack

Web Application Attacks

Concerning Cookies

Denial-of-Service (DoS) Attacks

The Issue with Cookies

Unauthorized Sale of Data

An Update on Web Testing Tools

Capture/Playback

Security Testing

Other Cool Tools

Summary
Course notebook with slides, worksheets, checklists, complete examples and supporting text

You will have the basic information needed to plan and execute a structural test of a web application.
Latest News
New Online Course - Unit Testing
New Online Course - Gathering, Documenting and Testing User Requirements!
New Course Series - IEEE Standards
Join Our Free Newsletter

RCS e-Learning


Quote
"Leaders are made, they are not born. They are made by hard effort, which is the price which all of us must pay to achieve any goal that is worthwhile." -- Vince Lombardi