Buy it Today!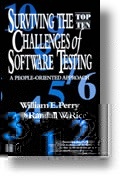 Randy's book, Surviving the Top Ten Challenges of Software Testing, will help you solve some of your toughest testing problems: people problems!

Click on the image to buy it from bn.com.
E-Commerce Testing
1 Day
"Mr. Rice has a great personality. One of the best instructors I've ever had!" -Latanya Stiff
"Good presentation and thorough knowledge of the subjects discussed. The book will be invaluable in the future." -Greg Milton
This is a practical hands-on seminar to explore the deeper issues of testing e-commerce applications. A major aspect of testing e-commerce is security, so significant time is devoted to security testing. You will learn the terminology, the unique issues, and the process for testing e-commerce applications. As a result of attending this seminar, you should be able to understand e-commerce and security testing and have a working knowledge of designing and performing test cases for e-commerce.
E-commerce and Security Testing will help you become more comfortable and confident in dealing with e-commerce testing issues. You will emerge from this one-day session knowing how to develop a e-commerce application test strategy and plan. You will also have a working knowledge of how to perform a test of an e-commerce application.
E-Commerce and Security Testing is the second course in a three-part web testing trilogy. The first part is Web Testing Overview and the third part is Testing Web Technology.
Internet technology is a revolutionary resource that has the power to transform organizations, giving them a competitive advantage in today's global marketplace. E-commerce can help your company become more competitive and ultimately, more profitable. Learn the issues and processes for effectively testing this dynamic and profitable technology by attending this hands-on course.
Learn how to find costly and embarrassing problems before your customers find them.
Understand the key issues in testing e-commerce.
Understand which risks are associated with e-commerce and how they can affect your test planning and execution.
Get the most out of your existing investment in testing and how to leverage that investment for e-commerce testing.
Advance your career by broadening your testing expertise.
QA Managers
Test managers
Test analysts
Testers
End users
Web developers
Mainframe and client/server developers making the transition to web development.
General managers who are responsible for making IT quality decisions in their organizations
IT auditors and internal auditors
The program requires basic IT and testing knowledge or experience
Program Information

This course is presented on an in-house basis only unless offered as a special public course. Contact us for information about how to bring this course into your organization.
Module 1 - Test Strategy (1 hr.)
E-Commerce Test Strategy
What Is E-Commerce?
An E-Commerce Schematic
An E-Commerce Hierarchy
The Technical Components of E-Commerce
The Human Components of E-Commerce
The External Components of E-Commerce
Risks of E-Commerce
E-Commerce Critical Success Factors
An E-Commerce Testing Process
A Test Strategy for E-Commerce
Module 2 - E-commerce Risk Assessment (.5 hr.)
The Risk Assessment Process
How to Present Risk Findings
Module 3 - E-commerce Test Tools (1 hrs.)
Effective Tools for Testing E-Commerce
Capture/Playback
Site Test Tools
Load Test Tools
Network Monitors and Analyzers
Vulnerability Scanners
Defect Tracking
Test Management
Test Case Generators
Test Data Generators
How Do the Tools Work Together?
Keys to Successfully Applying the Tools
How to Build Your Own Tools
Module 4 - E-Commerce Test Case Design (1.5 hrs.)
A Test Case Framework
A Test Case Design Tool
Test Case Design for E-Commerce Correctness
Example for E-Commerce Correctness
Test Case Design for E-Commerce Usability
Example for E-Commerce Usability
Test Case Design for E-Commerce Findability
Example for E-Commerce Findability
Test Case Design for E-Commerce Integration
Example for E-Commerce Integration
Organizing the Test Cases
Performing the Test
Module 5 - E-Commerce Performance Testing (1 hr.)
Key Concerns
Performance Testing Process
Determine test strategy and tools
Profile existing load levels
Calculate/Predict peak load levels
Identify load points
Script functions to be load tested
Create unattended test scripts
Perform test and measure results
Module 6 - E-Commerce Security Testing (1 hr.)
Key Concerns
The Impact of the Internet
Security Testing Process
Determine Test Strategy and Tools
Perform Security Assessment
What Are the Risks?
What Are the Crackers After?
How Do Intruders Gain Entry?
Develop Security Policy
Identify Security Risks: Functional & Structural
Script Functions To Be Security Tested
Design Automated Security Tests
Perform Test And Report Results
Which Tools are Applicable for Testing?
Which Tools are Available for Prevention?
Example: Designing and Performing an E-Commerce Security Test
Resources
Checklists and Templates
Glossary
Bibliography
Web Sites
Course notebook with slides, worksheets, checklists, complete examples and supporting text
You will have the basic information needed to plan and execute an effective test of an e-commerce application.
Latest News
New Online Course - Unit Testing
New Online Course - Gathering, Documenting and Testing User Requirements!
New Course Series - IEEE Standards
Join Our Free Newsletter

RCS e-Learning


Quote
"Leaders are made, they are not born. They are made by hard effort, which is the price which all of us must pay to achieve any goal that is worthwhile." -- Vince Lombardi