Buy it Today!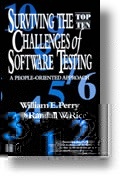 Randy's book, Surviving the Top Ten Challenges of Software Testing, will help you solve some of your toughest testing problems: people problems!

Click on the image to buy it from bn.com.
In-house Software Testing Certification Programs
There is a lot of interest in certification programs for software development and software quality. There is also value to both the individuals being certified as well as the organizations that employ them. As you examine the various certification programs that are available, you need to ask:
How recognized is the certification?
What is the basis of the certification (i.e., what does it cover?)?
How is the certifying organization accountable and responsive to its members?
How closely do the certification criteria reflect the items important to your career and organization?
What is the required investment to get and maintain the certification?
What is the future for the certification program?
What is the initial cost to your company to get certified?
What is the annual cost to your company to retain certification?
After examining the above questions, some organizations have determined that the best certification program may be their own. One of the greatest advantages of an in-house certification program is that you can control the criteria, future and investment of the certification. As for objectivity, there are options that allow you to administer the in-house program while an independent organization verifies certification criteria.
Rice Consulting Services, Inc. has been working with several organizations recently to develop this kind of program. We have extended certification training programs of 10, 15 and 20 days in length. These programs are tailored to your people, business, technologies and tools. Participants range from experienced testers and QA personnel to people just entering the field.
This type of program makes the training effort more than a "one shot" event. People are tested at the end of each major topic area and are also evaluated by direct observation during exercises. The certification is normally determined by a combination of demonstrated proficiency during training as well as actual work experience. The certification criteria is defined by you, but we can help you with templates and examples.
Each in-house certification program is different. For details about how we can help you design and conduct an in-house certification program that is right for you and your organization, just e-mail us or call Randy Rice at 405-691-8075.
Latest News
New Online Course - Unit Testing
New Online Course - Gathering, Documenting and Testing User Requirements!
New Course Series - IEEE Standards
Join Our Free Newsletter

RCS e-Learning


Quote
"Leaders are made, they are not born. They are made by hard effort, which is the price which all of us must pay to achieve any goal that is worthwhile." -- Vince Lombardi