Buy it Today!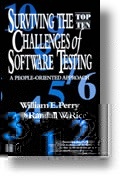 Randy's book, Surviving the Top Ten Challenges of Software Testing, will help you solve some of your toughest testing problems: people problems!

Click on the image to buy it from bn.com.
Certification from Rice Consulting Services
We offer private in-house certification, which is designed to meet the needs of a company or organization and is controlled by the organization
We believe that a certification must be:
Meaningful - it should indicate a meaningful and measurable level of skills and abilities.
Accessible - qualified people should be able to obtain the certification by a process that is efficient and well-managed
Personal - you should be more than a number. Every person certified by Rice Consulting will be closely scrutinized.
For other types of tester certification, I am supporting the CTFL certification offered by the American Software Testing Qualifications Board (ASTQB). You can learn more about their certifications at www.astqb.org.
You can learn more about in-house certification by clicking on the link below:
Latest News
New Online Course - Unit Testing
New Online Course - Gathering, Documenting and Testing User Requirements!
New Course Series - IEEE Standards
Join Our Free Newsletter

RCS e-Learning


Quote
"Leaders are made, they are not born. They are made by hard effort, which is the price which all of us must pay to achieve any goal that is worthwhile." -- Vince Lombardi